Farberware Cookware
Farberware is a known cookware brand that offers reasonably priced cookware, small appliances and tableware. The Farberware company  was originally established in 1900s. The company was then focused on selling pots, pans, copper and brass cookware along with vases. Today Farberware stayed along with time by inventing a coffee robot, first electric frying pan and other quality kitchen products.
Click here to see all Farberware Cookware
Farberware Cookware
:
Farberware cookware is known for Stainless steel cookware products that are quality and reasonbly affordable compared to other cookware brands. Farberware has managed to survive over a century since it started in 1900 in New York, that goes to say a lot about Farberware's good faith reputation and quality cookware and kitchenware products.
Farberware is now owned by Meyer Corporation. Meyer Corporation is a cookware distributor based in Vallejo, California, USA, whose parent company is Hong Kong based Meyer Manufacturing Co. Ltd. It is the largest cookware distributor in the United States and second largest in the world.
 Farberware Classic Stainless Steel 17-Piece Cookware Set
Rating: 5 Star

This Farberware 17 pieces large set includes not only extra saucepan but also two bakeware pieces. It is best value for your money and great for large families or giving parties at home. It is our best value pick. You can read our detailed review of the cookware set here: Farberware Classic Stainless Steel 17 piece cookware set
—————————————————————————————————————
Farberware Classic Stainless Steel 15-Piece Cookware Set
Ratings 4.5 Stars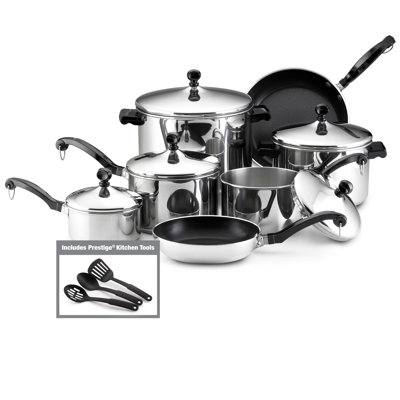 This Cookware set comes with 15 pieces, is oven safe and 18/10 stainless steel with a shiny mirror stainless finish that looks great on the eyes but also cooks well. This set comes with by three heat-resistant plastic kitchen tools, including a flipper, large spoon, and large slotted spoon.
—————————————————————————————————————
Farberware Millennium Stainless Steel Tulip Series 10-Piece Cookware Set
Ratings 4 Stars

This Farberware Millenium 10-piece cookware set is professionally styled with tulip shaped pot and pans. It features a thick aluminum core to provide exceptional heat distribution; Suitable for use on all stovetops including glass and induction. Glass lids let you monitor cooking progress without releasing moisture or nutrients. This cookware set is Broiler safe, dishwasher safe and extremely durable and beautifully designed.
——————————————————————————————————————
Farberware Millennium Colors 12-Piece Nonstick Cookware Set
Ratings 4.5 stars
Farberware makes also colors 12 piece nonstick cookware set for under $100. It has a Dupont Teflon metal guard that is safe to use with Metal Spatula. This cookware set comes in 3 colors, bronze, red and black. It is coated with Porcelain enamel to give a beautiful finish and easy to clean. Cookware is Oven safe up to 350 Degrees and comes with easy to see glass lids.